Janices crochet pattern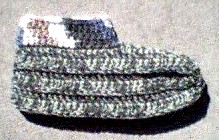 Hook size H
two strands regular ww yarn
chain 42
double crochet in 3rd chain from hook and each chain across, chain 3
and turn...(now I did the rest using the back loops only to give the
slipper that ribbed look but you can go through both loops for the
smooth look as well) double crochet in each stitch across chain 3
and turn...do about 14 or so rows and end off with about a 12" tail.
With a yarn needle weave yarn through one end of the rectangle and
pull to gather for toe..then stitch about halfway for rest of toe
end...then stich the heal part closed. Double crochet 3 rows for the
cuff.