Home

Welcome to
Operation Toasty Toes
Military slipper project
National Support effort from the US of A
ANYONE interested in contributing is WELCOME
Shipping funds supplied by Donations,
please contribute !!!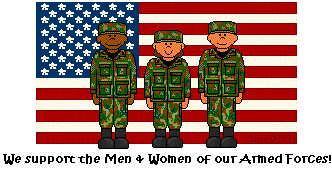 Operation Toasty Toes distributes
home crafted slippers to
US Servicemen & Women, stationed abroad
(Knit & crochet slippers)
We continue to post letters when available
If you have recieved a note from a soldier abroad, send us a copy for posting

You may copy & paste this banner for your website
you MUST link it to www.toastytoes.org
If you wish to participate in our program
If you live in the Western WA area please
see here
OPTT welcomes donations of slippers, constructed according to our listed patterns, donations of yarn, shipping supplies & expenses are always needed & appreciated.
Please see the links to:
and
Reciprocal Linx
Links do not necessarily mean we share
their personal or political views
Whether it be a consistent slipper contributor or a donation from a shipping contributor. We want to thank everyone involved with this effort
This is a show of support for our US Service Personnel, If we can thank these Men & Women is such a small way, lets do it with the dedicated loyalty that they themselves serve this country.
The Graphic Artist that supplied our characters

An OPTT group on yahoo, allows us to pick up updates or just meet other slipper contributors, please visit through this yahoo link.

Operation Toasty Toes needs your help
to pay for shipping arrangements for all those wonderful slippers.

Local members meet once a month in the Olympia, Washington area.
Summer & Fall of 2002 schedule:
The last Saturday of every month- 11 am- Lacey Timberland Library
Interstate 5 to College street exit (108)
Right onto College street
Left onto 6th
1st Left into the library
Meetings are very informal, we turn in completed slippers, pick up news, tags, share thank you letters, & pack slippers for shipping to troops.